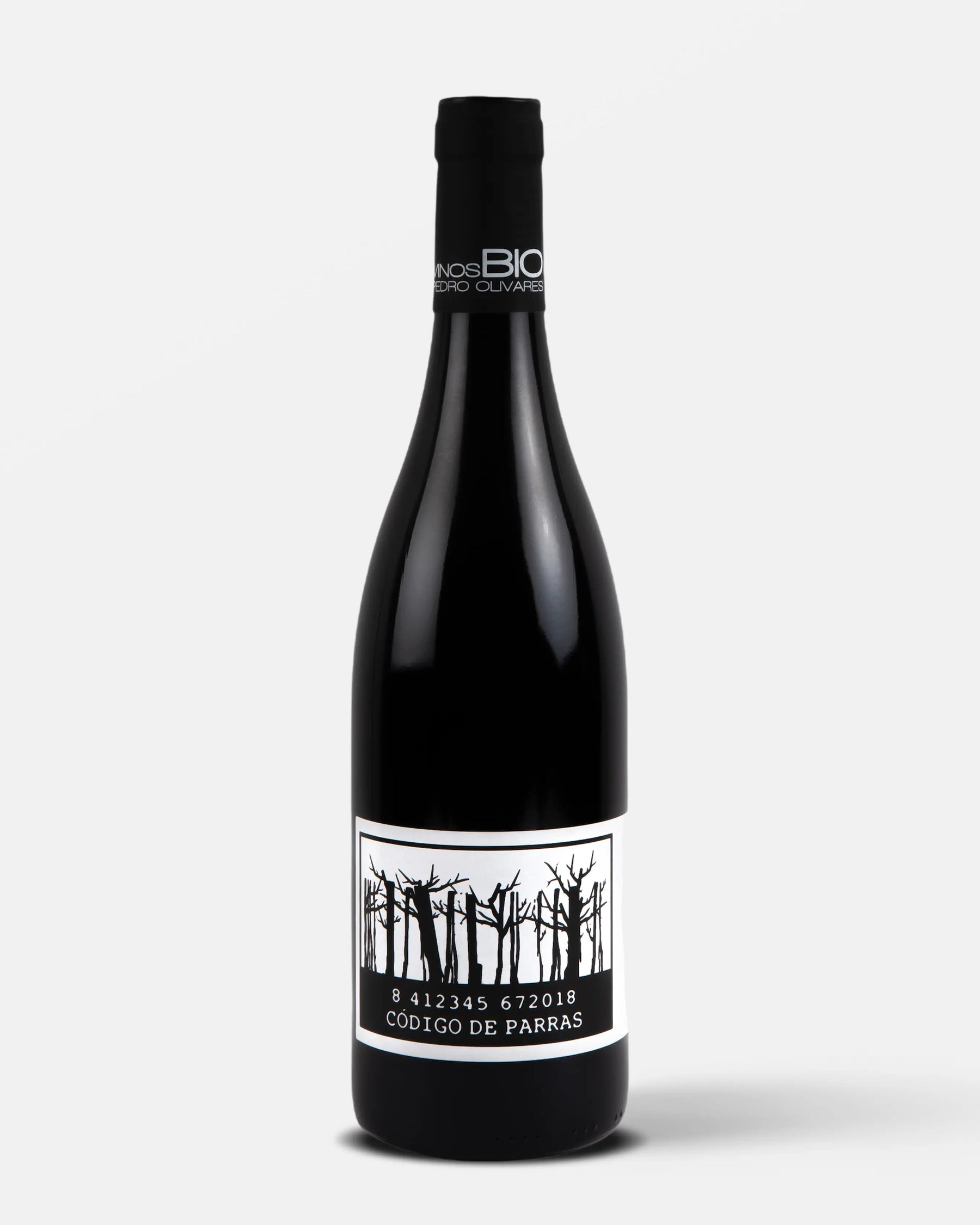 Código de Parras 2021
Vino Ecológico
In stock
Its elaboration does not go beyond assembling the varieties and letting them dialogue with each other. It is a wine with nothing added, sulphites, acidity correction... Código de Parras is fully alive.
Vinification: No additives, wild yeasts. No Sulfur added, uncorrected.
Malolactic fermentation: Yes, spontaneous.
Tasting sheet:

Color: Currant red.
Nose: On the nose it is fragrant and very fruity, both fresh and ripe red and black fruit and some hints of overripeness in the form of blackcurrant compote. It is decorated with mineral sensations.
Mouth: With its fruit and freshness on the palate and, on the other hand, even late-harvest wines that give it a sweet and somewhat overripe point. A whole parade of sensations that are expressed with a lot of personality in the glass.
Operating temperature:

Recommended 15ºC.

Consumption: On point.
Pairing: A fungi paste.
Crianza
Proviene de diferentes tipos de suelo; limoso, calizo, arcilloso, pedregoso y arenoso. Los viñedos varían en edad desde los 20 hasta los 100 años y las técnicas de cultivo han sido varias pero sin intervención. Por medio de una recolección manual selectiva y un filtrado de desbaste surge Código de Parras.

| | | |
| --- | --- | --- |
| Origen: | Tipo: | Añada: |
| Orígenes Varios. | Tinto. | 2021. |
| Variedad: | Producción: | Grado: |
| Mix | 300 Botellas | 15% vol. |
Shipments to all Europe
We use DHL Express to ship worldwide. Delivery time is usually 2-4 business days. NB: For countries outside the EU purchasing items ex. VAT, please note that you must pay import taxes according to the laws of that specific country. For returns, we are unable to refund duties and taxes as this is paid for and handled directly between you (the customer) and your country.
return policy
If you want to change a product to another size, color, etc., please contact us so that we can reserve the new item in our stock immediately. You are always entitled to an exchange or refund within 30 days of receiving your package, as long as the item has not been used. All original packaging, price tags, etc. They will be returned with the product without having been handled.